Welcome to the home of the "Mini Peal Board"
Val Clay
Mini Peal Board
Having seen the minipeal boards on Facebook posts, they looked perfect for permanently marking a modest quarter peal to mark the churches 150th anniversary. The final product is perfect, came quickly and we were particularly pleased with the emailed "proofs" so that we could see how it looked in advance and make small adjustments to the wording. Would highly recommend
Jane Boardman
Tower Keyrings
Thank you so much for the lovely keyrings! They complimented our recent ringing trip perfectly. All the ringers on the trip were very pleasantly surprised when I handed them out!
Thanks again for the amazingly quick turnaround of my order too!
Carl Barker
Acrylic Mini Peal Board
My mini peal board came today and it's absolutely amazing, I chose the black acrylic version, which is absolutely perfect. The text is nice and clear and looks exactly how I imagined it to. Communication was extremely good, very helpful and friendly, and all very efficient. I will 100% use again in the future. Highly recommended!!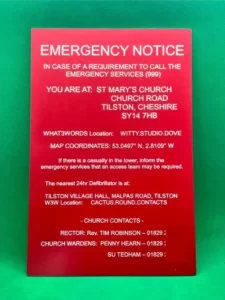 Penny Hearn
"ICE" Notices
The new Emergency Notices are great, they really stand out and have all the information that we need to show visitors to our tower. They were really good value and arrived quickly, Thank You.
Sarah Clark
Presentation Clock
The clock was absolutely amazing, Peter loved it and it was the perfect gift for a special man , THANK YOU!!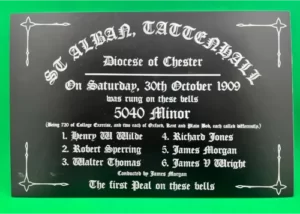 Jeff B
2 x Large Peal Boards with backing boards
The large mini peal boards have arrived safely - thank you. They look great - just hope the other ringers like them, which I'm sure they will !!
I am a firm believer that everyone should celebrate success in whatever they do, if you are a runner or cyclist then completing a race or a challenge you expect to get a medal or some token of the fact that you have made the grade.
In the art of bellringing, there are some significant milestones that I think we should celebrate.
In towers we will see Peal Boards that celebrate significant accomplishments which are moments in the ringers or tower's life captured for everyone to see. 
These are often large and elaborate, and usually fairly costly to produce, but with modern methods, I have developed miniature versions of these that can be given to ringers or bands to celebrate the smaller successes.
Larger Custom Peal Boards are also available up to 800cm x 375cm in Landscape or Portrait and shaped as you want for display in your tower. Custom boards can be up to 14mm in thickness allowing for deeper engraving and the additional options this gives, if you have a requirement then contact me for a specific quotation
As the creation of the Mini Peal Boards  has progressed, other products have be thought of alongside which use similar techniques, but all about Ringers, Bell Ringing & Bell Towers, I fully intend to continue to  design and develop these alongside the boards, so signing up to our mailing list will ensure that you get first notice of new products and special offers.